---
2023 Bridal Hair Accessory Picks
Explore our handcrafted 2023 bridal hair accessories, perfect for Pinterest boards. Discover Bridal Vines, Wreaths, Hair Combs, Crowns, Tiaras, Floral Combs, Clips, and Hair Pins in various stunning styles.
---
Discover the Best Bridal Veils for 2023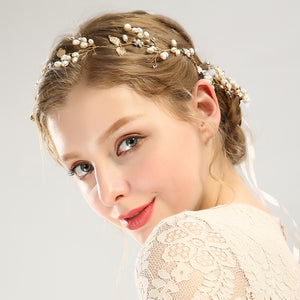 Enchanting Bridal Hair Wraps & Vines for Your Whimsical Wedding
Embrace Whimsical Bridal or Natural-Themed Weddings with Our Stunning Bridal Hair Wraps and Vines! 🌿
View Collection
---
Dear Beautiful Brides...
A warm welcome to Bridal Hair Boutique! Thank you for gracing our online store with your presence. 🤍
Bridal Hair Boutique is your dedicated wedding and bridal hair accessories haven located in Stellenbosch, Western Cape. We take immense pleasure in offering an exquisite selection of bridal wedding hair accessories, catering to brides, bridesmaids, and even the mothers of the bride.
Within our range, you'll find an array of captivating options, including stunning bridal veils, elegant bridal capes, and a delightful assortment of bridal hair accessories. Whether you seek bridal hairpins, pearl and diamanté hair vines, bridal tiaras, or bridal slide-in combs, our collection is designed to put the perfect finishing touch on your already radiant wedding style.
If you're in search of that extra touch of enchantment and sparkle to elevate your special day, you've arrived at the right place. Our mission is to curate a selection of the most glamorous and on-trend wedding hairpieces that will breathe life into your ideal bridal look.
On this momentous occasion, you deserve to feel like the most beautiful person in the world, and we're here to make that dream a reality. 💖
With all our love,
Bridal Hair Boutique xx
Bridal Hair & Makeup Studio:
9 Paardebloem, 16 Morgenster Road, Johannesdal, Stellenbosch, Western Cape, South Africa
(By appointments only)
Email: info@bridalhairboutique.co.za
Contact number: +27671040098
Hair and Makeup artist:
---
Elevate Your Bridal Look with Bridal Hair Boutique: Your South African Source for Exquisite Wedding Veils and Accessories
Discover Bridal Hair Boutique: Your South African Source for Stunning Wedding Veils, Bridal Hair Accessories, and Bridal Cape Veils
Established in 2020 in Johannesburg, South Africa, and now headquartered in Stellenbosch, Bridal Hair Boutique is dedicated to providing South African brides with a captivating selection of bridal veils, bridal hair accessories, and veil capes. Our commitment extends to sourcing the most alluring bridal hair combs, wedding clips, pins, vines, and bridal veils.
Crafted from high-quality materials and exquisite textures, our bridal veils and accessories are ideal for elegant weddings and special events. Our hairpieces are fashioned from premium alloys, rhinestones, crystals, gold, and silver to add a touch of sparkle to your wedding day. These unique wedding hair accessories can also enhance your presence at matric farewells, proms, galas, parties, and other exceptional occasions.
With nationwide availability in South Africa, our bridal hair accessories, wedding headpieces, bridal veils, and bridal cape veils can be easily exchanged if you're not completely satisfied with your order. Count on us for safe, speedy delivery to your doorstep within just 3 working days. Should you have any questions or concerns about our wedding and bridal hair accessories, please don't hesitate to reach out to us at info@bridalhairboutique.co.za.
Let customers speak for us